Product Content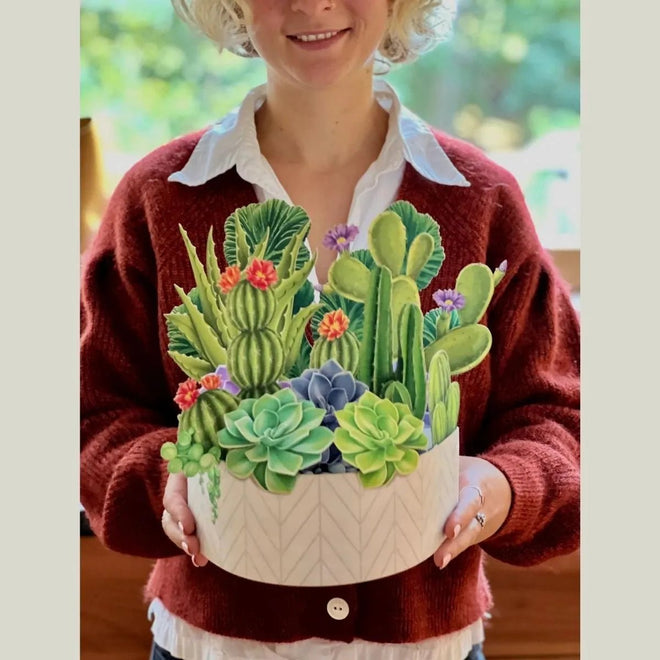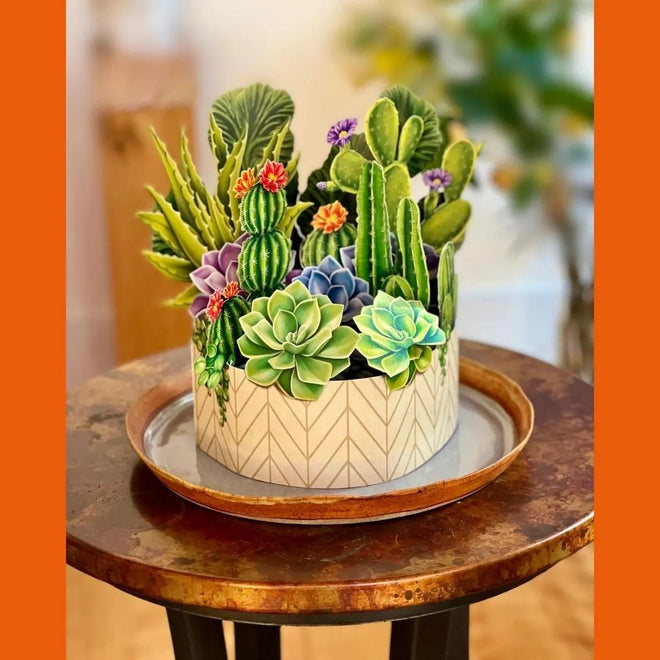 Pop-Up Flower Bouquet Greeting Card - Cactus Garden
$
14.95
You Save:

$-14.95

(100%)
Pop-Up Flower Bouquet Greeting Card - Cactus Garden
$
14.95
You Save:

$-14.95

(100%)
Product Description
Description
Paper Flower Bouquet Pop-Up 3D Greeting Card - Cactus Garden
---
Our Cactus Garden Pop-Up 3D Greeting Card is the perfect gift for inspiring your space with a touch of green. This lifelike Pop-Up 3D greeting card Cactus Garden features a collection of succulent and cacti varieties. Displayed in a modern geometric planter, this beautiful assortment is the perfect gift for dorm dwellers, plant lovers, and friends! Whether you're looking for something small and simple for your desk, or a greeting card that's big and bold for a friend or loved one, we've got you covered!

Pick up a pack of our realistic 3D greeting card Cactus Garden today and bring some greenery into your life!
This is not your typical pop-up flower greeting card! This Stunning Life-Sized Pop-Up Cactus Garden greeting cards by Freshcut Paper™ are 2 gifts in one. Send these colorful and whimsical pop-up flower bouquet greeting cards that will bring joy to everyone that receives them!

Colorful and Whimsical Alternative to Flowers

Earth Friendly (100% Recyclable)

Includes:  Bouquet, Matching Bouquet Note Card, Paper Vase, and Festive Mailing Envelope

Stunning Life-Sized - 

Measures approx 12" high by 9" across
Mails Flat (4 Forever Stamps covers postage)
A Tree is Planted for Every Bouquet Sold
Perfect for people with allergies and cancer patients who can not have fresh flowers due to mold concerns and other issues with real flowers.

Great gift for Valentine's Day, Mother's Day, Birthday, or a thoughtful gift for a friend to let them know you are thinking of them and brighten up their day.

Whether you want to receive the Cactus Garden Pop-Up Bouquet Card or have it sent directly to the recipient, we can accommodate your request. Simply provide the recipient's shipping address at checkout and we'll take care of the rest.

Include a Beautiful Handwritten Message: For an extra $5, we'd be happy to hand-write a personal message for the recipient if you don't want to send your gift yourself. Just click the checkbox at the top that says "Yes +$5".

See our whole Freshcut Paper Flower Bouquet Greeting Card Collection.

Get 30% Off when you Buy 5 or More Pop-Up Flower Bouquet Greeting Cards and get Free Priority Shipping.

(Mix & Match any bouquet style. Must be sent to the same address. Discount automatically applied.)

Liquid error (snippets/vasta-scripts line 185): Could not find asset snippets/custom_scripts.liquid